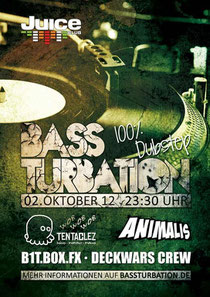 On 02nd Oct 2012 the new Dubstep-Event "Bassturbation" will start up in Hamburg.
Join the Juice Club (Stresemannstraße 204) at about 11:30 pm an get yourself filled with the sound of deep basses. Besides a premium LineUp there will be Special-Deko, Visualz, FingerFood und Welcome Shooters.
To lead you to musical climaxes the "Animalis" Crew from Kiel, GER has been invited, who regulary makes the crowd at "Pumpe, Kiel" escalate. Furthermore "B1TB0X.FX" (Pixelsounds, Drumbule) will spin the wheels that night. He should be well known to all Bass-Heads in Hamburg.
And of course - they are not missing: "TentacleZ" - Bassturbation Resident DJ Team! Since they started the TentacleZ project, these guys have a very valuable reference list containing e.g. Waagenbau, Hafenklang, Magazinkeller (Bremen) and  Airbeat One Festival.
To top this, there will also play "Slagter" and "Toteki" from "Deckwars Crew" - who play really nice sets on their own party "Deckception" (Bar 227, Angel Klub) but also know how to combine kicks, beats and basses to an unique experience!
More Info: www.bassturbation.de